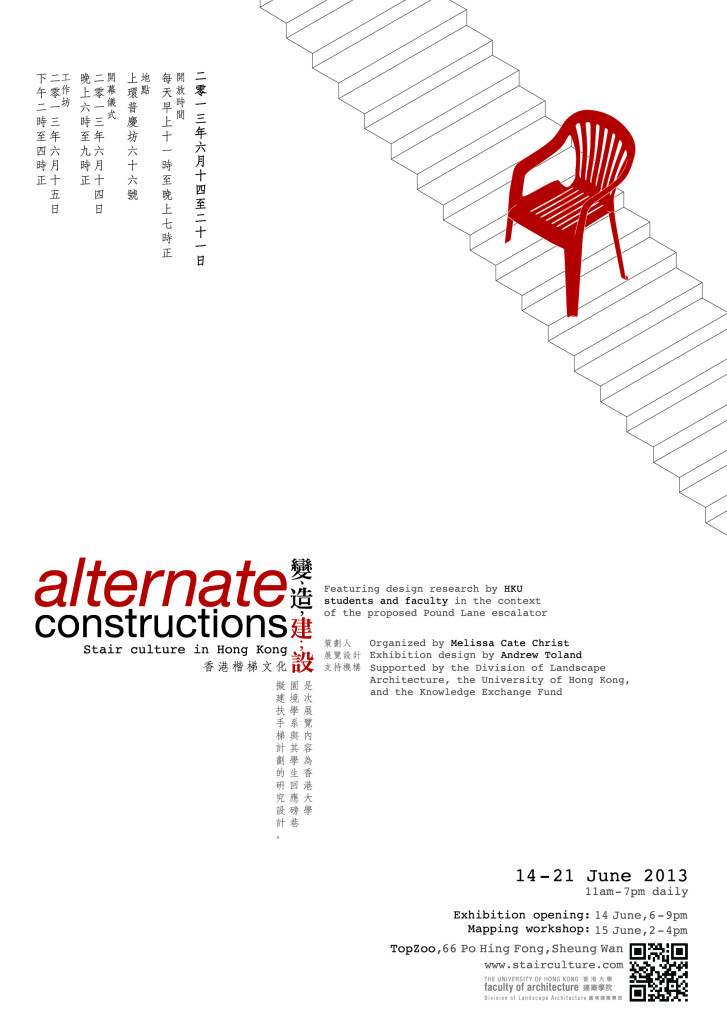 The exhibition alternate constructions: Stair culture in Hong Kong features the design research of HKU students and faculty in the context of the proposed escalator along Pound Lane.
June 14-21, 2013
11am-7pm daily
Opening reception: June 14, 6-9pm
Mapping workshop: June 15, 2-4pm
TopZoo
66 Po Hing Fong
Sheung Wan
Organized by Melissa Cate Christ
Exhibition design by Andrew Toland
Supported by the Division of Landscape Architecture, University of Hong Kong, and the Knowledge Exchange Fund. 
More information and images from the exhibition at http://poundlanehk.wordpress.com/  http://transversestudio.com/stair-culture and http://transversestudio.com/floating-in-Hong-Kong
A press invitation for the exhibition (in Chinese and English) is here.
變、造,建;設
香港楷梯文化
是次展覽內容為香港大學園境學系及其學生回應磅巷擬建扶手梯計劃的研究設計。
二零一三年六月十四至二十一日
開放時間 每天早上十一時至晚上七時正 
地點 上環普慶坊六十六號
開幕儀式 二零一三年六月十四日晚上六時至九時正 
工作坊二零一三年六月十五日 下午二時至四時正